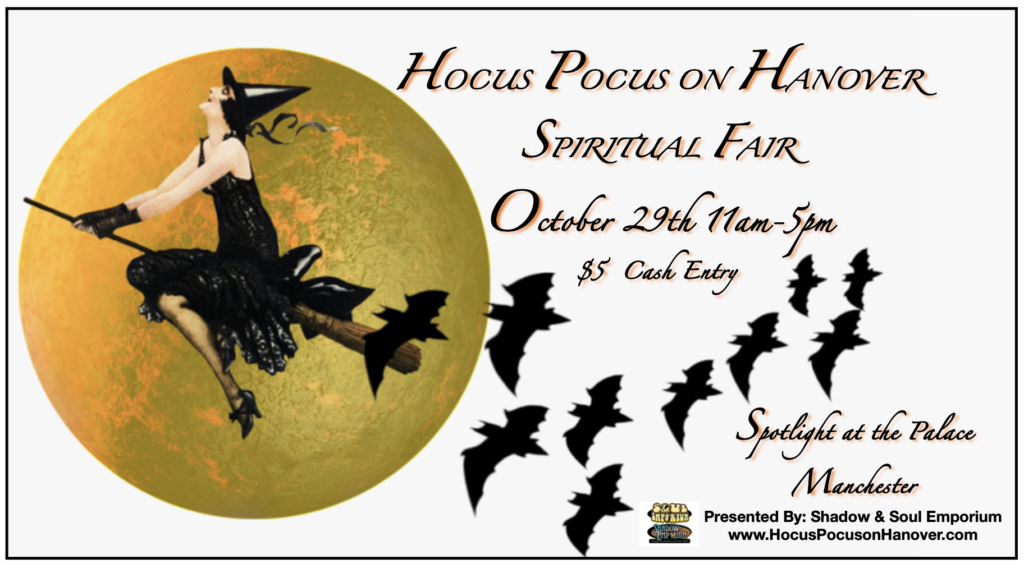 HOCUS POCUS ON HANOVER
SPIRITUAL FAIR
October 29th 11am-5pm
$6 Cash Entry $5 ticket online for first 100(FREE $20 value swag bag for first 100 to purchase on eventbrite!) Spotlight at the Palace Theatre Hanover St, Manchester Join this magnificent spiritual fair featuring readers, healers, artists and metaphysical goods! Presented by: Shadow and Soul Emporium 22 Hanover St, Manchester This is a fair during the HocusPocusonHanover.com event! October 29th 11am-10pm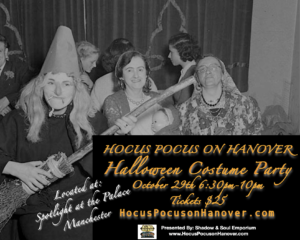 HOCUS POCUS ON HANOVER
HALLOWEEN COSTUME PARTY
October 29th 6:30pm-10pm $25 Tickets/Includes one drink ticket Spotlight at the Palace Theatre Hanover St, Manchester Join this good old-fashioned Halloween costume party with "CJ th DJ" hosting the music and karaoke. 
Red Carpet costume runway at 8:30 pm sharp with PRIZES!
and of course, Games & Cash Bar!
Presented by:
Shadow and Soul Emporium 22 Hanover St, Manchester This is a fair during the HocusPocusonHanover.com event!
October 29th
 11am-10pm

1000 Elm Street, Manchester, NH 03101
See the Witches Dance LIVE and grab a drink special from HopKnot!